FAQ
Section Index
About Me

About Art

About Fandoms

About Original Characters

Other Questions
1. About Me
-

Name?
Julie(t) or Kaci. I HATE being called Kitten.  Kaci is actually the acronym of my Devart; Kitten-Chan -K+C=Kaci.
From?
Ireland, more specifically Dublin.
If you weren't interested in art, what else would you like to do?
I'd teach. Younger children preferably, probably Primary School level.
Likes?
Well, the standard drawing, reading, writing of course. Music, I'm pretty music obsessed, I think it kind of comes with art tho. My friends, they're crazy important to me. TEA, TEA, TEA.
Dislikes?
Spiders, Spiderssss EUGH MOTHS, DDx Butterflies YUUUCK, Heights. Brown-nosers; the fastest way to make me wary of you is to be a lick-arse. I don't appreciate it and years of fake dA popularity has made me sceptical and mistrusting. Be my friend, talk to me because you want to talk to me. But if you want something out of it. You and me, we've hit a wall.
 -
2. About Art
-

Programs of choice?
Painttool Sai, Photoshop and I used to use Painter but my installation disk is MIA, yes I actually went to the trouble of buying it. If you intend to work even semi-professionally it's very important to OWN programs.
Tablet?
Wacom Intuos 3 9x12
Brush Settings?
I use the marker tool in Sai almost exclusively, for colouring I use the Fine Flat setting but mostly it's just normal.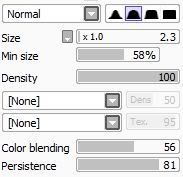 Do you take requests outside of LiveStreaming?
No, I occasionally take commissions but I'm closed atm.
You may have noticed I BLATANTLY favour people request wise. I always work on the premise of positive reinforcement; these people are lovely to me. I'm nice to them in return. If you come into my stream and only pop up when it's request time, it'll be ignored.
How long have you been drawing?
Feckin' years. I don't know. I got serious about it around 16/17 but there's never been a point in my life where I haven't been drawing.
Who inspired you to?
I can't say anyone in particular inspired me, because I just always have. I used to be pretty amazed by my mother, back in the day. She's a psychiatric nurse and she used to do posters years and years ago for the wards and I was AMAZED that she could copy the pictures. She and Dad also painted murals on the bedroom wall when I was like…..3? And those are still there.  When I changed the colour of the room I painted around them and touched them up.  Kind of ironic considering she's not that fond of me drawing. And that's putting it mildly.
What's your go-to color scheme?
Grey scale or Black and Blue/Teal, My inner emo's trying to get out. The topmost feature on my dA is the colours I will immediately fall to if I'm doodling.
Who are some of the artists you look up to?
This is a TOUGH question for me, because there are SO MANY. And I know if I try to list them all I'll leave people out and that's so utterly unfair.
My friends, are ever an inspiration.
What's your favourite thing to draw?
People, expressions, hands, character interaction.
Do you draw NSFW?
Yes, indeed I do.
How do you think of poses?
I've been practicing and drawing for so long now it's like second nature to me, I notice I repeat certain poses but I try to add little changes.  Mostly I just let pictures grow. I don't like to tie myself down by thinking 'Im going to draw THIS exact pose' I think 'Im going to draw something similar' and let it be what it wants to be.
-

3. About Fandoms
-
What fandoms are you currently into?
The Hobbit, Teen Wolf, Rise of the Guardians, Skyfall, Hannibal
American Comics, more specifically Batman, Red, Robin, Teen Titans and Young Avengers but I keep straying outside of those. Mostly DC, but I'm getting curious about the Avengers now and I also picked up book 1 of X-Factor the other day. I got a little bored with the characterisations in manga and there just hasn't been anything of note out recently.
I've fallen out of love a little with comics since the reboot, It just hurts to see how destroyed some of the characters are and theyre just so wholly uninspiring.
In manga my main squeezes are~ Hikaru No Go, DGM, Nabari no Ou, Jing, Airgear, Natsume Yuujinchou(manga) Dogs, PoT, Eureka 7, Reborn, Kyou Kara Maoh, there's lots more but those are a few
I read a good few Yaoi/BL titles and follow certain artists borderline obsessively. They release something, I buy it.
What artists are those?
Honami Yukine, Shouko Hidaka, Yoneda Kou, Jaryuu Dokuro, Hiro Madarame
Favourite Character?
The Durins, ugh, babies. Stiles, Tim or Dick in DC, I just adore him. I have a hard time choosing between Billy and Teddy so I'm just going to love them as the item that they are.
Favourite Pairing?
Durincest, Sterek, DickTim, and MANY more. I have the multiship gene, where everything is a pairing so long as there is SOME chemistry.
 -
4. About Original Characters
-
Why don't you draw your Oc's anymore?
I'm taking a break, kind of.  If you follow them, Moukemono is kaput. The writer dropped off the face of the planet so I haven't heard from her since last December.
I actually still work on them. I just don't focus on them so blatantly. I'm really enjoying being in a fandom atm and drawing the hell out of it
No more Moukemono, now what?
Well when I started working on Moukemono I actually shelved my Epic so I would have room for Moukemono but now that that's not happening anymore those babies have been pulled back out and I'm reworking the story to update it and change the character focus.
5. Other Questions
-
Can I write a story to go with your picture?
Yes of course, this is ETERNALLY flattering to me. PLEASE, PLEASE link me, im like ridiculously unobservant at the best of times so I'll probably miss it. But this, I LOVE.
The ONLY instance where I would ask you not to - is if it is one of my AUs because I have a pre-existing story to go with it and that is ALL there is for me to the picture and nothing else. Any of the pictures I babble about I don't mind too much - but my personal AUs are just that -they're personal to me.
Can I colour your picture?
Course you can, again please link so I can see and throw some credit in somewhere but I would seriously love to see how it turns out~
Is Corn grass?
Yes Teal, it is.
What kind of "thank you"s do you enjoy most?
Oh goshhh, anything, drawings, writing. A gift is appreciated no matter what it is. I'll love it. 

 -